Amiga 1500 Design/Leisure/Business/Education
| | |
| --- | --- |
| Developer: | Commodore International |
| Year of sale: | 1990-1993 |
| Price: | - |
| Region | Europe |
Amiga 1500 packs marketed the machine as a home computer for business, education and leisure use. The packaging for these bundles varied according to the software provided. It may be speculated that four packaging variants were sold that emphasised different aspects of the Design - Leisure - Business - Education subline. However, only two have been recognised in computing advertisements.
Design - Leisure - Business - Education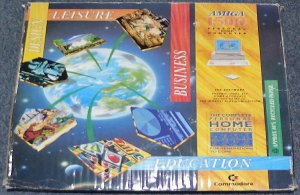 The DLBE package appears to promote the leisure and education aspects of the bundle. It was, allegedly sold with Puzznic, Toki, Elf, Home Accounts, Deluxe Paint III and The Works! platinum. Interestingly, the packaging claims to be made of approximately 80% recycled paper.
Education - Design - Leisure - Business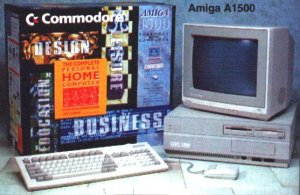 The EDLB variation appears to promote the design and business aspects of the bundle. The software bundled with the machine is uncertain - it may have been the same as the DLBE pack or not included any software at all. To clear their remaining stock, Silica advertised it as the Amiga 1500 Starter pack for a retail price of 499 UK Pounds. Some Amiga dealers provided additional software titles, such as Lotus Challenge 2 as an incentive to purchase the system.
Source: Silica Systems advertisements
Source: 'Chain', English Amiga Board

Last Update: 22/04/2006