Commodore Amiga 3000UX bundle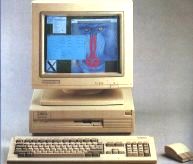 Developer: Commodore International
Launch date: 1991
The 3000UX was Commodore's ploy to capture some of the UNIX market. In an unusual step, Commodore management were thinking ahead and wanted to create a professional image for the computer. The company had already produced a 2630 card for the Amiga 2500 that had proved popular. In a press release, Commodore indicated the machine was intended to undercut the prices of existing Unix workstations:
"part of Commodore's goal to provide technical solutions at affordable prices for users, providing a unique platform for the industry standard operating system."
For a short while, the A3000UX was the only computer that UNIX users could purchase to use System 5 Release 4. Other versions were released a few months later. This offered a significant advantage to Commodore. However, it is unknown if this directly translated into sales of the machine.

System Specifications
The A3000UX is an updated version of the original A3000 unit.
| | |
| --- | --- |
| CPU | 68030 |
| Operating System | AMIX (Amiga UNIX) system 5 Release 4/AmigaOS 2.04 |
| Drives (SCSI) | 200MB hard disk and optional A3070 tape drive |
| Memory | 9MB |
| Display | A1950 colour monitor (optional) |
| Zorro cards | A2410 hi-resolution colour card, Ethernet card (for both thick and thin Ethernet) |
| Price: | $4998.00 |
View Amiga Unix disks (87K) | View Amiga Unix Packaging (30k)
Related Pages
Amiga 3000 [AiG]

Amiga 3000UX sales brochure
Commodore Amiga UNIX community
Amiga-UNIX
Last Update: 14/6/2002