Amiga "Mind Walker"
Developer: Amiga Technologies
Announced: April 1996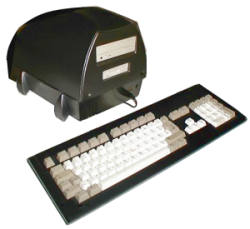 The Mind Walker was the first and only Amiga machine to reach a prototype stage during the Escom 1995-1996 period. The mid-range system combined the classic AGA architecture with mainstream technologies to enable the use of off-the-shelf parts. It is likely the system specifications were influenced by public demand for an A1400-style machine. The case design remains a unique and easily identifiable symbol in the Amiga market. Designed by Frog Design in 1995, it has been compared to a Darth Vadar helmet, a hoover and a robot dog called K9 from Doctor Who.
Sadly the machine was never able to change the Amiga market. Escom entered liquidation a few months after the prototype was demonstrated. The machine was snubbed by Viscorp in their aborted Amiga purchase. Gateway 2000 followed suit in 1997 indicating they had no plans to develop the hardware, but were willing to allow others to license the technology. Although the hardware specifications are outdated (see below), many people have developed a high regard for the case work. Merlancia announced the purchase of the Walker and Amiga MCC design in 2001, and Thendic France have discussed the possibility of selling a Pegasos board in a modified Walker case.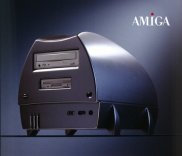 Concept Designs
In October 2002, Thendic France provided six Walker concept designs for use by Amiga History Guide.
Specifications
The complete system specifications are shown below:
CPU (Central Processing Unit
68EC030 40MHz, room for FPU to be fitted.
Memory:
2Mb 32-bit Chip RAM
1 SIMM socket expandable to 128Mb.
By default fitted with 4Mb Fast RAM.
Total memory: 6Mb.
ROM
Kickstart 3.2 (v43) 32-bit 1Mb ROM.
Chipset
AGA custom chipset
Paula- Audio and original floppy and serial ports.
Tony- New custom chip that supports new floppy format and expansion port.
Standard multicontroller IO chip.
2 8520 socketed CIA.
Storage
Undetermined hard drive size (probably 500Mb+).
4x IDE CD-ROM.
HD floppy drive.
Rear I/O
23-pin RGB video output.
RF output and composite.
RCA/Phono video output.
2 RCA/Phono audio output jacks.
Extended Parallel Port (EPP).
Standard 8520 CIA driven parallel port.
Hi-speed buffered serial port.
Standard Paula/CIA Serial port.
Full speed HD floppy controller.
Standard Paula/CIA floppy controller.
Front I/O
2 joy/mouse connections.
1 PC AT style keyboard port
Internal I/O
Enhanced IDE interface, supporting up to 4 drives.
Expansion
One slot made of two sub connectors for general expansion such as graphics cards, accelerators, etc.
Other
Internal power supply.
Real time clock.
Four layer circuit board.
PCMCIA slot in prototype, may have been dropped for release version.
Relevant Links
Walker concept designs | Walker rear view (30k) | View Walker PCB (48.8k) | Walker FAQ (now outdated)
Last Update: 26/10/2002