Amiga Multimedia Convergence Computer (MCC)
Developer: Gateway/Amiga Inc.
Year of Announcement: 1999
Year of planned release: 2000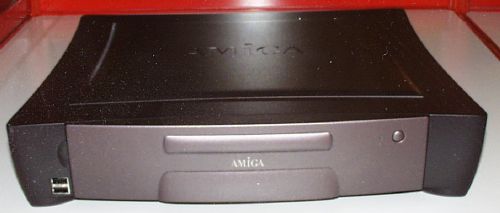 The Amiga MCC was a low-end consumer system developed by Gateway for the Convergence market. It was designed as a clean break away from the Amigas past, featuring a brand new operating system called Amiga OE and based around existing standards. USB was the main method of expanding the machine, as can be seen from the left of the image.
The Amiga MCC was an entirely new design based upon Amigas Class Two compatibility specification. Distribution was planned to be in two formats
An integrated multimedia convergence computer- useful for console-like use.
A standard ATX motherboard allowing greater expansion.
The hardware remains a closely guarded secret. Although Transmeta deny involvement, the majority of opinon point to the use of the Crusoe processor as a CPU, with additional work done to implement an integrated version of Linux for the system. The Technical Brief also pointed to the use of broadband networking and wireless interfacing as standard.
The industrial design for the case of the MCC version was done by Pentagram, a leading world-wide industrial design firm. The case design is unlike any single concept drawing previously released, suggesting the design is a combination of the Kyoto and Audi tt. Demonstration of a hardware mock-up at the World of Amiga '99 indicated there would have been room for two hard drives, an extra expansion bay for removable drives, 2 PCI slots and 7 USB ports on the front and back of the machine.
After the departure of Jim Collas as president of Amiga, the MCC was cancelled and Amiga Inc. turned into a software developer.
Official Amiga MCC Photo Shoot
Images were taken directly from the Amiga web site.
MCC & Monitor combo-Side (52k) | MCC & Monitor combo- Front (56k) | Amiga MCC- Above Front (43k) | Amiga MCC- Front (47k)
Back to Gateway Amiga N.G. Page
Back to Unreleased Amigas Page
Last Update: 31/7/2002