© 1997-2006
Gareth Knight
All Rights reserved

A500 'Batman Pack'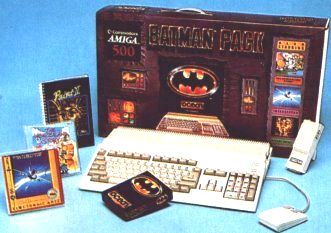 Retailer: Commodore UK
Available: October 1989 - September 1990
Price on launch: £399
The Commodore A500 Batman pack must surely rank as the most successful computer pack ever. The bundle was negotiated and organized by David Pleasance. Its success directly contributed to his ascendance to the role of joint Managing Director and swelled the Amiga ranks by over two million users. This was backed by a TV advertising campaign that promoted the Amiga as a games machine that could also word process.
The bundle features the standard A500 computer and TV modulator, plus four of the most popular titles of the time - Batman the Movie, New Zealand Story, Interceptor, and Deluxe Paint 2.
Additional Images
Batman Bundle (21k)
Last Update: 17/6/2002


Latest updates to the Amiga History Guide. (more)


Other interesting items in the archive!