© 1997-2006
Gareth Knight
All Rights reserved

Amiga 500 "Your Imagination is the Limit"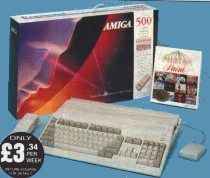 Developer: Commodore International
Year of sale: 1987?
Price on release: £399
One of the first A500 bundles to be sold in the UK, the machine had just 512k Chip RAM and Kickstart 1.3. The system was aimed towards the hobbyists market who do more than just play games. A copy of Photon Paint was included with machines bought from Silica Systems.
BACK
Last Update: 22/6/2002

Latest updates to the Amiga History Guide. (more)


Other interesting items in the archive!