© 1997-2006
Gareth Knight
All Rights reserved

The Home Accounts system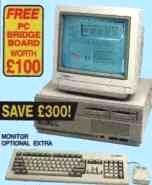 Retailer: Silica Systems
Launched: 1993
Price on launch: £399
The Home Accounts system was the final A1500 bundle to be sold within the UK. Its release was widely accepted as a method of clearing old stock, ready for the new A1200 & A4000 systems. For just £399, the buyer got a Amiga 1500 unit (1MB RAM, two 3.5 disk drives) with a PC XT bridgeboard installed.
Serious software

Home Accounts
Platinum Works compilation (word processor etc)
Deluxe Paint 3
AmigaVision multimedia authoring package
Transwrite
GFA Basic 3.5
Photon Paint 2

Game software

Puzznic
Toki
Elf
Zool
Pinball Dreams,
Striker
Last Update: 17/6/2002


Latest updates to the Amiga History Guide. (more)


Other interesting items in the archive!