Amiga Magic bundle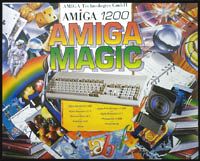 Developer: Amiga Technologies
Year of sale: October/November 1995
Price: £399
The A1200 'Amiga Magic' was the first machine produced after the Escom purchase. The bundle continued the theme established in later Commodore UK bundles, aiming for the serious user rather than the game player. The table below shows the overwhelming amount of serious software in comparison to games.
Serious software

WordWorth 4SE
TurboCalc 3.5
DataStore 1.1
Photogenics 1.2SE
Personal Paint 6.4
Organiser 1.1
Scala MM300 (hard disk bundle only)

Game software
The choice of these two games attracted particular criticism. Both games had achieved low ratings in Amiga game magazines, making them unsuitable for the Amiga's relaunch compilation. The only reason they were included, according to Jonathan Anderson (managing director of Amiga Technologies UK), was because they were cheap. A second criticism of the bundle focussed upon its high price - the standard A1200 2MB machine cost £399, or £499 for the addition of a 170MB hard disk.
Although disappointing to many Amiga users, the bundle was acclaimed by certain video magazines as the perfect machine for video production.
View disks (65K) View Amiga Magic logo (14.2k)
BACK
Last Update: 20/6/2002