© 1997-2006
Gareth Knight
All Rights reserved

Amiga Workbench 1.0
Developer: Amiga Inc/Commodore
Launch: September 1985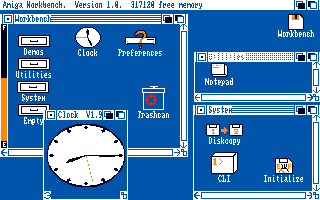 The first version of Amiga Workbench came on two disks with the A1000 during 1985. At the time it was NTSC only. Of particular interest, the pointerchanged into a red circle/crosshair when draging objects.
For more information visit Workbench Nostalgia.
BACK
Last Update: 23/02/2002


Latest updates to the Amiga History Guide. (more)


Other interesting items in the archive!