Amiga Workbench 2.04
Developer: Commodore
Launch: October 1991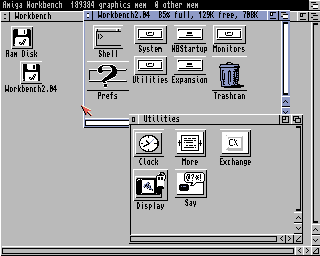 The OS revision is remembered by many Amiga convertees, shipping at the peak of the Amigas success. The release was designed for the A500+ and A3000, as well as available as an upgrade for previous systems. In particular, this Kickstart release added the early boot menu, allowing the user to select the boot device and disable certain drives. GadTools was moved to ROM and style guides provided a standardised requester look. The FastFileSystem was also enhanced and improved, showing some speed increases. It was also possible to show files that did not have icons through the GUI rather than resorting to the CLI. This release also added ARexx as standard as well as Outline font support.
The large icon below (unselected & selected image, respectively) is located on the Install disk [2.0Install:Tools/Test/Who.info] with all the programmer's signatures on it. It also exists in a hidden directory on the A3000 SCSI install diskette:
View Icon (15.6k) - a large icon could be found on the install disk that showed all of the developers signatures.
View Packaging (12.1k)
View Packaging & disk holder (40k)
View Workbench 2.04 disks (39.2k)
View Workbench 2.04 A3000 Kickstart disk (6.11k)
Local Links
BenchPress Guide to Workbench 2.0

For more information visit Workbench Nostalgia.
BACK
Last Update: 23/02/2002