© 1997-2006
Gareth Knight
All Rights reserved

Amiga Workbench 3.0
Developer: Commodore
Launch: 1992

Workbench 3.0 was first introduced in 1992 as part of the 'new' Amiga 4000. It quickly made its way into the low-end market when the Amiga 1200 was released just a few months later. The Kickstart ROMs and Workbench were ony available through the purchase of these systems. OCS and ECS users were forced to wait for the release of the AmigaOS 3.1 Upgrade in mid-1994 to get their hands on the new features. The release added support for the AGA chipset, Localisation, DOSDrivers, datatypes, and a range of other features. The Early Startup Control was revised allowing caches to be disabled/enabled and adding diagnostic features. There was also a range of aethetically pleasing changes, including better color remapping and background pictures rather than the WB2 Patterns. Menu colours were reversed, demonstrating black-on-white menus,
3D look added to menu bar (bottom black line), new-look style scroll bars and arrow gadgets, and WB3 Palette Preferences.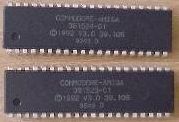 Local Links
BenchPress Guide to Workbench 3.0/3.1

For more information visit Workbench Nostalgia.
BACK
Last Update: 23/02/2002


Latest updates to the Amiga History Guide. (more)


Other interesting items in the archive!