Amiga SDK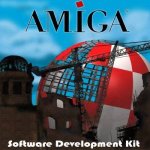 Developer: TAO Group/Amiga Inc.
URL: www.tao-group, www.amiga.com
Price: $99
Release Dates:
Linux SDK v1.0
Linux SDK v1.1
Windows SDK v1.1
June 3rd 2000
October 24th 2000
October 24th 2000
For a platform limited by its slow CPU and custom chipset the appeal of a platform-independent, portable operating environment was immediate. It was hoped the small efficient design of the Elate microkernel, combined with Amiga's multimedia libraries and content would usher a new era for the Amiga market - an era of interconnected devices, universal and transparent to the user.
When launched in June 2000 the Amiga SDK was seen as laying the groundwork for the revolution. Its stand-alone release was a change from earlier announcements that suggested the SDK would only be sold with the hardware developer system. After numerous emails, Amiga Inc. realised that few people would buy a new x86 PC simply to use the Amiga SDK, especially if they had already invested in expensive hardware.
The first release contained only a small portion of the planned Amiga Foundation Layer. Subsequent updates to the SDK have been released to developers who sign Amiga Inc's NDA and evidence of new development has been indicated in public comments by Amiga DE developers. However, no one outside the Amiga developer community has seen direct evidence of these updates.
Multi-Platform


The key to the new Amiga DE is its flexibility- the operating system can be self-hosted or sit on top of another operating system. This is similar to Mac emulation on the Amiga, allowing the OS to use installed hardware via native or host drivers. This will allow the operating system to run native (directly installed onto the hard disk, like Windows, Amiga OS, and Linux) or in a hosted environment (running as an application under the host OS and intercepting calls passed). In a hosted environment the new Amiga runs on versions of Linux, Windows 95,98/NT, Windows CE, OS/9, QNX4, and others to be announced.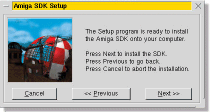 System Requirements
Amiga SDK for Linux:

Ethernet Network Interface Card
Red Hat Linux 6.1 running Xfree86
32 MB of RAM (64 MB recommended)
100 MB of hard drive space

Amiga SDK for Microsoft Windows

Ethernet Network Interface Card
Windows 95B, 98, NT Workstation 4.0 (with SP3), 2000, ME
64 MB of RAM (128 MB recommended)
100 MB of hard drive space
200mhz Processor or faster
A site license in included with each copy of the Amiga SDK.
Distributors
During the first months of 2000 Amiga Inc. announced several strategic partnerships with existing Amiga dealers to distribute the Amiga SDK, including Software Hut and Eyetech.
Further Reading:
Local Links
Amiga SDK Press Release
Elate Screenshot (87.6k) | AmiSDK running boing demo (23.5k) | AmiSDK running Elate demo (41.6k) | Windows SDK (56.2k) | Windows SDK CLI (26.6k) | A heavily customized SDK (196k) | View Amiga SDK CD (23k)
External Links
Amiga Corporate site
Amiga User Groups

BACK