© 1997-2006
Gareth Knight
All Rights reserved


Developer: Visualcom/Barlage den Haag
Launch date: 1999?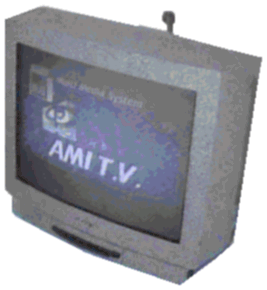 An unusual machine that has received little attention. Visualcom, in corperation with Barlage den Haag, claim to have developed a TV with an Amiga built in. The machine is designed for in-store communication systems, utilizing the Amigas TV compatibility to provide a cheap alternative to existing solutions. The AmiTV web site cites the following specifications:
| | |
| --- | --- |
| Motherboard: | Unknown, most likely an A1200. |
| Processor: | 68030 CPU |
| Memory: | 6MB |
| Drives: | 1GB removable hard disk, external 3.5" double density floppy drive. |
| Interfaces: | Parallel, serial |
| Input: | keyboard, mouse |
The lack of advertising or press attention is puzzling. Such an unusual unit would get at least some media focus. All email addresses on the site do not seem to be operational anymore so this may remain a mystery. To find more information visit the AmiTV web page at http://home.luna.nl/~visual/amitv.html
BACK
Last Update:21/6/2002


Latest updates to the Amiga History Guide. (more)


Other interesting items in the archive!