The BeOS is a highly advanced operating system designed for the tasks performed during the late 1990's. During the dark days after Commodore went into liquidation and Escom had little interest in the Amiga, BeOS was seen as a worthy successor to the Amigas crown, leading to the nickname "Amiga 96". This is not surprising, many of Be employees are Amiga enthusiasts and used the Amiga as a model when they were creating the OS. The BeOS feature list reads like an advanced version of the AmigaOS with pre-emptive multitasking as standard.
The original BeOS was PowerPC only; you could buy a dual-processor BeBox from Be to run it on, or use your existing Power Macintosh or clone. Because of Apple's much tighter hardware/software relationship, BeOS lingered on the PowerPC platform, and at one stage was even proposed as a replacement for the Mac OS itself, until Steve Jobs came along and sold NeXT to Apple instead. At the time of release in 1996 it was the appex of the Amiga development. A computer that symbolised everything the Amiga did but was not restricted by the 68k or custom chipsets. This led many Amiga supporters to buy a BeBox.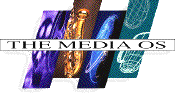 As well as a modular design ready for extensive audio and visual work. This had led it to be dubbed, "The Media OS." It also offers features not supported by the basic AmigaOS as standard including TCP/IP, Unicode, memory protection and a 64-bit filing system. It also supports multi-processing as standard.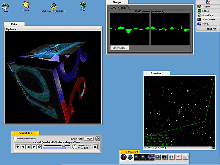 The chances of BeOS beating Windows in the desktop x86 market are slim, even with the current Microsoft situation BeOS still lacks many of the applications to make it irresistible for the average user. The BeOS gives a useful example of how any new Amiga will have to break into a Windows market. They are not selling it as a replacement to Windows but as a companion that can be dual-booted. As of version 3 the operating system became available for Intel and PowerPC platforms. Whilst it does not include the wealth of software available for Windows, it is better designed following a pattern of revolution rather than evolution, ala DOS to Windows 9x. In many ways Be is aiming at the niche occupied by the Amiga which is still enormously popular in the video and film post-production world. Be is intended to be used by content creators, people who build multi-media or even conventional media such as TV and sound. It incorporates MIDI, 3D and OpenGL, as well as the ability to handle and process digital sound.
When it was announced at the World of Amiga show 1998 that Amiga Inc would use the kernel from an existing OS, BeOS was to be the next generation AmigaOS. However, internal differences resulted in these discussions falling through, and so Amiga Inc chose QNX. Be went on alone to release version 4 that offered greater support for Intel-based hardware. After years of struggle Be were bought by Palm, who intend to use the technology in their 32-bit operating system.