© 1997-2006
Gareth Knight
All Rights reserved

Commodore Amiga (A1000) Bundle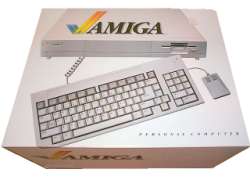 Retailer: Commodore International
Launched: 1985
The first Amiga bundle was a limited machine by contemporary standards. For $1295.00 US dollar the buyer would receive a 256/512k Commodore Amiga machine, Kickstart & Workbench 1.1 disks, and related manuals. In 1986 many retailers began to offer third party applications and games with the machine.
View a second A1000 box (36K)
View A1000 box - Back (24k)
BACK
Last Update: 13/8/2002


Latest updates to the Amiga History Guide. (more)


Other interesting items in the archive!