Checkmate 1500
Developer: CheckMate Digital
Year of Launch: 1990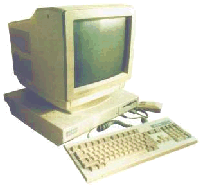 The Checkmate A1500 was a desktop upgrade to the A500. For £199 A500 owners could ditch their console-style case in favour of the professional 'mini-workstation' look of big box Amigas. Checkmate Digital also sold the machine as a complete unit - the Checkmate desktop case and latest A500 motherboard - for £589 UK Pounds.
In an attempt to prevent CheckMate gaining a foothold in the market, Commodore International launched an updated version of the A2000, also called the Amiga 1500. The competition sealed CheckMate's fate, forcing them out of business.
View a full page advert that appeared in several UK Amiga magazines (76k)
Advert originally donated to the Big Book of Amiga Hardware by John Klumpp.
Last Update: 1/11/2001