Developer: Blittersoft/Weird Science
Year: 1998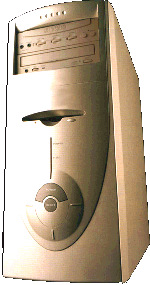 In 1998 Blittersoft and Weird Science jointly announced a unique solution to the drought of Amiga hardware - an Intel PC. The Cerberus was a Pentium 2 300MHz PC bundled with Windows 98 that was advertised in several Amiga magazines. To justify the promotion of the Intel platform, Blittersoft included a copy of the 'Amiga Forever' emulator. This allowed the Amiga emulation to access the PC graphics card through the use of Picasso 96. Mac emulation was also promoted as a feature through the use of Fusion. If the machine had been successful, there were plans to distribute a follow-up Cerberus bundle that offered Amiga compatibility through the Siamese PCI card.
While many Amiga users objected to its promotion, indicating that Blittersoft were falsely advertising a WIntel PC as an Amiga, their views were an exaggeration. In an interview, Blittersoft admitted that the Cerberus was not the perfect solution if the user desired a fast Amiga. The emulation was only capable of emulating a 68020 processor and lacked a real Amiga floppy disk interface. Instead it was aimed at Amiga owners who were considering purchasing a PC, while supporting Amiga retailers. In a failing market based upon vaporware, the Cerberus represented a method of using products that Amiga users had been waiting for. Under the rallying cry of "Digital Convergence Now!", it was seen as the only way that Classic Amiga systems were ever going to take advantage of the latest developments of DVD, SDRAM, and USB. Although they were heavily criticized, Blittersoft's reasoning was not based upon a hidden agenda to get everyone to use Windows but attempts to expand the Amiga market in areas that would be costly for real Amigas.
"First of all, we feel it is impossible to take the view that there is nothing out there other than the Amiga. At this moment in time, the vast majority of leading edge games and applications are simply not available for the Amiga. The same is true for technologies such as DVD. Whilst the Amiga is striving to catch up, we cannot ignore the fact that we can take advantage of all these options and still support the Amiga."
View Cerberus Advert (230K)
| | |
| --- | --- |
| A Workbench 3.0 screen running in 16.8 million colours under emulation using the PC Mpact graphics card. | A Windows 98 screen running DVD video and the latest games. |
All specifications are taken from the Blittersoft website.
Cerberus Mark 1
Processor

Intel Pentium II 300 MHz

Graphics Card

Mpact 2 graphics card running at 125MHz
RAMDAC 230 MHz, Onboard AGP

System Memory

64Mb SDRAM (More can be added for an additional sum)

Graphics Memory

8Mb 1.3 GB/sec Rambus DRAM

Drives

4.3 Gig UDMA EIDE Hard Drive
2x DVD / 20x CD-ROM
1.44Mb High Density Floppy

2D Graphics

Maximum 1280 x 1024 24bit colour
Maximum 1600 x 1200 16bit colour

3D Graphics

500 MFLOP set up engine supporting
1 Million triangles per second

DVD Video

Fully compliant MPEG-2 Video Playback
720 x 576 full screen resolution

Video Out

Composite / S-Video Output for DVD

Digital Audio Out

S/PDIF Digital Audio Output
Dolby Digital (AC-3) & PCM Sound

Audio

AudioStorm 3D positional audio
Mpact Forte Advanced Wavetable Synth.
64 Simultaneous Hardware Voices
8Mb 16-bit General Midi Samples

Onboard PCI IDE

2 x PCI Bus Master IDE Ports
Support UltraDMA/33:33MBSec
PIO Mode 3,4 : 17MB/Sec DMA Mode 2

Onboard I/O

1 x Floppy Port, 2 x Serial Ports
1 x Parallel Port (EPP/ECP), 2 x USB Ports
1 x PS/2 Keyboard Port, 1 x PS/2 Mouse Port

Expansion Slots

3 x PCI, 1 x PCI/ISA, 1 x ISA (Used)

Modem

Internal 56K Fax, Voice Modem

Other Ports

Analog Audio Stereo Output & Input
Microphone Stereo Input, Standard MIDI and Gameport

Monitor

14" Digital Monitor 0.28 Dot Pitch

Input Devices

Windows 98 Keyboard & Mouse

Operating System

Microsoft Windows 98 & Workbench 3.0

Software

Custom bundle according to individual choice.

Price

£999.99 (including VAT and next day delivery)
Additionally it is also possible to order other items to be included with the system such as a copy of Fusion PC, allowing Macintosh 68k emulation for an additional price.
Last Update: 28/7/2002