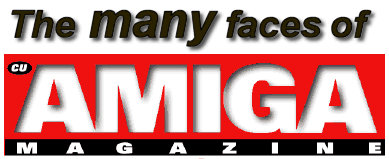 | | |
| --- | --- |
| Month of first issue released: October 1981 | Month of last issue released: October 1998 |
| Publishers: EMAP | Coverage: Mix of technical & games coverage |
| Country published: United Kingdom | No. of issues: 204 (approximation) |
| Status: Dead | Medium: Paper |
| Web Address:None | |
As one of the oldest Commodore magazines, CU has a long and potted history spanning over 15 years. The magazines history can be divided into 5 main epochs:

Vic Computing: 1981 - 1983
Launched soon after the computer boom. It covered the Commodore Vic-20.
Commodore User: 1983 - 1989
The Vic-20 was becoming rather long in the tooth compared to the new Commodore systems being released. Commodore User, incorporating Vic Computing was launched to cover this growing market.
CU Amiga/64: 1989 - 1991
Increased competition in the 8-bit market and the magazines extensive Amiga coverage led to the magazine being renamed during 1989.
CU Amiga: 1991 - 1994
Purged of the C64 content, the magazine concentrated on the Amiga. The market was at its peak during this period, only ending with the demise of Commodore during 1994.
CU Amiga Magazine: 1995 - 1998
To increase market awareness of the title CU Amiga gained the 'Magazine' extension. This was a time of decline for the Amiga market, eventually resulting in the magazines death.
The Post CU Years
CU2000
A look at what CU Amiga may have become if it had not been cancelled.

CU: What we leave Behind
Despite CU Amigas death there are a number of magazines and webzines that can be described as sons of CU. Read about them here.

CU Amiga Tidbits.
Miscellaneous items.

CU Amiga Online
Links to news stories, articles, and reviews from CU.

CU Amiga Interviews
Tony Horgan reflects on his time as the final editor of CU Amiga.