Amiga E4000
Developer: Computer City
Launch date: 1999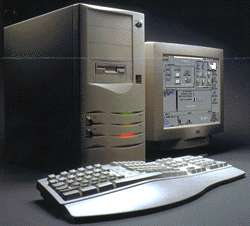 The A4000-based machine represents the first new A4000 bundle created since the distribution problems of 1998. It was built and sold by Computer City - an official Amiga Distributor in Benelux. The E4000 consists of a standard Amiga 4000 mainboard built into an ELBOX Ebox tower (also known as Power Tower or Winner Tower). The processor boards are manufactured by Apollo, Commodore (3640) and DCE (CyberStorm).
Mainboard:
A4000
Memory:
2MB Chip RAM
Drives:
3.5" 1.76 MB floppy drive, 40x IDE CD-ROM, 13.1GB IDE hard disk
Expansion:

1 x IDE Controller (on A4000 mainboard)
1 x SCSI2 Controller (on processor board) for hard disk & CD-ROM
7 x Zorro II/III slots
5 x ISA Slots (non-active)
2 x Video Slots

Operating System:
AmigaOS 3.5
Peripherals:
Original A4000 keyboard & mouse
Case:
Midi-Tower with 230 Watt power supply
Several versions of the E4000 are available that offer different processor specifications and memory.
Apollo version
As the name suggests, the Apollo uses the expansion card of the same name. This provides:
68040 40 MHz or 68060 50 MHz CPU
32 MB Fast RAM on processor board (maximum 128 MB)
Commodore A3640 version:
As the name suggests, the A3640 uses Commodore's CPU card. This provides:

68040 25 MHz CPU
16MB Fast RAM on mainboard
CyberStorm version:
Finally, the Cyberstorm variant uses the CyberStorm MkIII card to provide:
68060 50 MHz CPU
32MB Fast RAM (2 x 16 MB on processor board) with a maximum of 128MB
BACK
Last Update: 22/6/2002