© 1997-2006
Gareth Knight
All Rights reserved

Amiga 500 'Flight of Fantasy'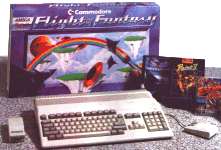 Developer: Commodore International
Year of sale: April - September 1990
Price on release: £399
The Flight of Fantasy bundle came at a time when the Amiga was its peak in terms of European sales. The distribution was based upon a standard 512K A500 and aimed towards gamers of a 12-15 age range with aspirations of using their computer for more serious tasks. This was reflected in the software bundle included hits such as Rainbow Islands, Escape from the Planet of Robot Monsters (for younger players) and F29 Retaliator (for the strategist). The resident serious application was Deluxe Paint 2.
BACK
Last Update: 22/6/2002

Latest updates to the Amiga History Guide. (more)


Other interesting items in the archive!