A1200 Hollywood Bundle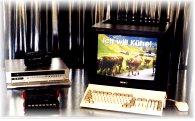 Retailer: Commodore International
Available: 1993 /1994
A previously unknown system configuration that appears to have only been sold in Germany and France. The software included allows the user to produce professional video sequences and effects. It includes the standard AmigaOS 3.1 OS and Magic pack (Photogenics 1,2, WordWorth 4SE, PPaint 6,4, TurboCalc 3,5 and Organiser V1.1). It is the addition of a hard drive (of an unknown capacity) and an M-Tec 68030/4MB 28Mhz turbo-card. This increases total memory up to 6Mb, enough for video sequencing. The Hollywood bundle also includes:
SVHS Neptune video genlock (with Sirius Genlock 510) and SCART cable
SuperCut
SCALA MM300, Adorage and Monument Titler
"Amiga and Videofaszinationen" DTV book
The A1200 Hollywood Bundle has a recommended retail price of Fr. 2495, (including VAT).
Last Update: 17/6/2002