© 1997-2006
Gareth Knight
All Rights reserved

Jay Miner Interview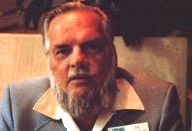 "Atari decided that they did not need another computer. They decided not to pay the bonus they had promised me and the engineers. So I quit, as did nearly all of the engineers and programmers."
The 1992 AUI interview with Jay Miner has become an important artifact to understand the pre-Commodore era of the Amiga, and learn about the development of the Lorraine prototype. However, it was not the first time the magazine had interviewed the man behind the machine- Jay had also gave the magazine an exclusive interview four years previous. At this point in time he was still bitter about the decisions made by Commodore and the direction that they took the Amiga.

The interview is scanned from the June 1988 issue of Amiga User International and saved in JPEG format. Hopefully the
former publishers will not mind it being distributed to a wider audience.

Read the AUI interview
Page 1 (174k)
Page 2 (326k)
Page 3 (71.6k)
BACK

Latest updates to the Amiga History Guide. (more)


Other interesting items in the archive!