MBench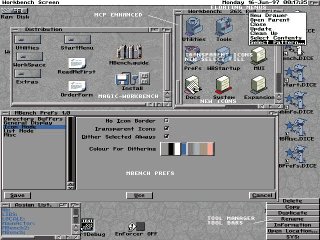 Don't get too excited, it isn't a completely new OS for the Amiga but a replacement for the GUI. It can be seen as a cheaper version of Windows 95 and DOpus 5 with less functions. It offers many new features and enhancements over the normal Workbench, such as fantastic directory caching and internal multitasking, as well as a new way to list files and creates a "Start menu", similar to that used on Windows 95. This is quite an amazing replacement! However, it's slightly confusing to use, even over a long period. However, this is probably because I am so used to the Workbench menus.
After a while you begin to question the use of a replacement GUI. It may be powerful but even the slightest patch of the OS renders many programs, notably WordWorth 5 incompatible. It even crashed at some points simply opening a drawer. There are also questions on its development as the webpage was last updated in September 1997.
I don't want to be too critical of this program. It's damn fine at what it does, and for only £10 too register its a bargain. However, I cannot see a point where I will use it as a complete replacement to Workbench. Perhaps the author should develop it as a "proper" OS, rewriting the Workbench functions, or make it available with some special programs for disk-copying rather than using the default Workbench type. This would make it seem even better value.