MEGA 4000AT
Developer: DVS Direct
Launch date: 1999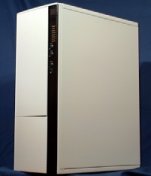 The MEGA 4000AT is described as an improved A4000T, improving many of its shortcomings. However, the improvements are restricted to a high-density floppy drive and the lack of space provided. The Mega 4000AT is designed for use with the Video Flyer system and weighs 54 lbs.. Owners of current A4000's can upgrade through the Mega 4000DT conversion kit.
Mega 4000AT Technical Specifications
Mega 4000AR
A second system that is to be is the Mega 4000AR. This is a rack mount version that is for use within a studio environment. The system is housed in a standard 19" EIA rack enclosure and comes in two sizes 5 bay or 9 bay.
To read more about the Mega 4000 check out the website at http://www.dvsdirect.com/Mega4000.htm
BACK
Last Update: 22/6/2002