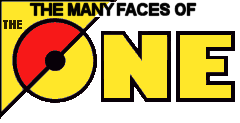 | | |
| --- | --- |
| Month of first issue released: October 1988 | Month of last issue released: July 1996 |
| Publishers: EMAP & Maverick | Coverage: Games magazine |
| Country published: United Kingdom | No. of issues: 92 (approximation) |
| Status: Dead | Medium: Paper |
| Web Address: None | |

The One has existed in one form or another for almost eight years. The magazines history can be divided into 4 main epochs:

The One for 16-Bit Games: October 1988 - April 1991
Launched in October 1988, the multi-format magazine covered the Atari ST, Commodore Amiga, and PC.

The One for Amiga Games: May 1991 - April 1992
The second epoch marks a golden age for the Atari ST and Amiga. This resulted in the magazine being split into two publications- 'The One for Amiga Games' & 'The One for ST Games'.

The One: May 1992 - October 1992
The closure of 'The One for ST Games' resulted in the magazine shortening its name. The magazine took on a new vitality and moved in a different direction.

The One Amiga: October 1992 - July 1996
To allow new readers to more easily recognize it as an Amiga publication, the title was expanded upon. This marked the magazines' fall from grace, its sale to Maverick, and eventual closure.
The Post 'One' Years
You Are Not The One
Despite the magazines' death there are a number of titles that it had a direct influence upon and which continued many of its ideas.

The One Tidbits
Miscellaneous items.

BACK