© 1997-2006
Gareth Knight
All Rights reserved

AMIGA 300
Developer: Commodore
Year: 1990/1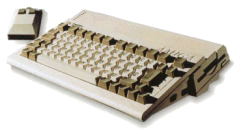 A low cost sub-A500 system planned to complement the machine, not to replace it. The Amiga 300 board was launched as the Amiga 600. Also known as 'June Bug.' The A300 name was present on the A600 revision 1 motherboard (shown below).

BACK
Last Update: 14/6/2002


Latest updates to the Amiga History Guide. (more)


Other interesting items in the archive!