© 1997-2006
Gareth Knight
All Rights reserved

Amiga CD32 Launch bundle
The Amiga CD32 was launched in Europe during 1993 and was shipped to the united states and Canada a year later. The CD32 launch bundle shipped with the basic unit and one joypad. No games were included.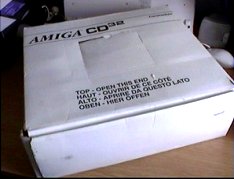 View CD32 bundle (1.45Mb)
BACK
Last Update: 09/04/2006

Latest updates to the Amiga History Guide. (more)


Other interesting items in the archive!