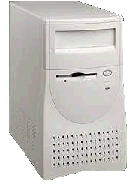 The TVNC is a new range of systems from Siamese Systems that picks up on the themes of Digital Convergence that Amiga Inc introduced to the Amiga community. Using a custom-designed device and based upon a version of Linux the project attempts to integrate a number of low-cost computers and terminals into one intelligent device. Selling the idea of allowing an "average" individual to "do what they want", the TVNC is capable of displaying all current visual displays (terrestrial, satellite, video, etc), as well as replacing stereos and other commodity items. Future developments could also result in the toaster being replaced!
The system is based upon a full Linux distribution with all of the TVNC software installed and will be distributed separately on CD-ROM for 29UKP, allowing current systems to be converted to the new network distribution. The basic concept is a return to the idea of dumb terminals that were common up until the 1970's. The average system nowadays is more powerful than it needs to be. Many people buy a 400MHz system just to do some simple word processing! The TVNC acts as a server that controls access to devices and software by the other systems. This reduces the need for large hard drives and multiple copies of the same program running on different machines. It does not appear to take the idea to the limit by doing the processing on the main server, referred to as the Base-Station, and then retargetting the display to one of the terminals. This is hardly surprising as the processor is certainly not slow, using a 300MHz IBM x86-compatible.
Where does the Amiga fit in?
The current systems appear to be largely based around the x86 architecture at present. The use of Linux means that future versions could run from a PowerMac or even a 68k Amiga. The Amiga is not being left out of the equation. The Amiga was the inspiration behind the creation of the TVNC, providing pre-emptive multitasking, 56k modem. It also features many devices and settings currently out of the reach of most Amiga Classic owners such as multi-user, TV-Tuner and video playback, 16-bit audio I/O, 3dfx graphics card, and an optional inclusion of Windows 98. TVNC owners can integrate an Amiga into this system using either emulation through the software UAE or the hardware-based PCI Amiga card. The TVNC will create an established hardware platform for the forthcoming AmigaOS 5 release. Through the Amiga card it is also possible to run Mac 68k executables, creating a multiOS environment.
The systems come in three variants:
TVNC-Base-Station that controls all other machines on the network
TVNC-Satellite that acts as a gateway to the Internet and TV support
TVNC-Booster similar to the TVNC-Satellite but does not include CD-ROM, Floppy drive or TV Tuner.
System

Description

Price

TVNC-Base-Station

IBM 300 Processor fitted onto a P5 ATX Motherboard, 512k cache, Samsung 15" monitor, 32mb DIMM RAM, Internal 56k Modem, 6.8Gb hard drive, floppy and CD-ROM drive. Voodoo 4Mb 3dfx and TV Tuner card. Ethernet PCI card, plus standard keyboard and Mouse. All fitted in a standard ATX mini tower case.

699 UKP, including Vat.

599 UKP, excluding VAT or outside EEC.

TVNC-Satellite

IBM 300MHz Processor fitted onto a P5 ATX Motherboard, with 512k cache, 14" SVGA monitor, 32mb DIMM RAM, CD-ROM, Ethernet card, Voodoo 4Mb 3dfx PCI and TV Tuner card. As well as keyboard and mouse fitted inside a PC Mini Tower.

399 UKP, including Vat

349 UKP, excluding VAT or outside EEC.

TVNC-Booster

IBM 300MHz processor fitted onto a P5 ATX motherboard, with 512k cache. SVGA 14" monitor, 32Mb DIMM RAM, PCI Ethernet card, S3 Virge 4mb graphics card. Standard keyboard, mouse, and PC Mini Tower

299 UKP, including Vat.

249 UKP, excluding VAT or outside EEC.