Eagle A4000TE range
Developer: Eagle
Launch date: 1997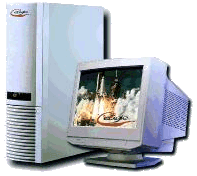 The Eagle series were an official Amiga Technologies licensed product line produced during 1997. The aim was to allow the user to build an Amiga system tailored to their own hardware requirements. Three pre-configured A4000 systems were available:
Eagle 4000TE
A standard A4000 (2MB Chip and 4MB Fast RAM) fitted into a Xenon tower case.
Eagle 4000TE- 40/40
Same as above, but fitted with a Cyberstorm 68040 40MHz CPU and 1GB SCSI hard drive as standard.
Eagle 40000TE-60
Same as above, but with a 68060 CPU.
View second image of Eagle tower case (26K) (graphic donated to Big Book of Amiga Hardware by Mauro Maltoni and P-O Yliniemi)
BACK
Last Update: 22/6/2002