AmigaOS 3.9
Developer: Haage & Partner/Amiga Inc.
Release: December 4th, 2000
First Public Demonstration: December 9th, 2000 (WoA 2000, Cologne, Germany)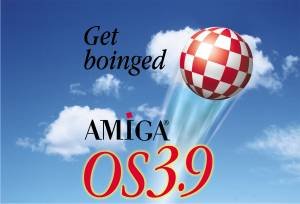 The announcement and launch of Amiga OS3.9 came as a surprise to everyone. The product was announced during the fourth quarter of 2000 and was nearing a state of completion. For the first time in the Amigas history, a product has actually been shipped on the day that it was due. At the time of the press announcement, the feature list had already been finalized and there had been extensive testing to repair many of the bugs. Many have argued that this is continued proof that Classic Amiga OS development should be handed to Haage & Partner.
While OS3.5 was designed to fix many of the long-standing bugs, OS3.9 is designed to implement functions that did not make it into the previous release and legitimize third party software. It is designed to provide a set of basic tools to guide future developments and provide the functionality demanded by a contemporary OS. Many of the visible improvements have resulted in support for standard file formats, such as AVI & MP3, while improving the User Interface aesthetics.

AmigaOS 3.5: Above and Beyond
Much of the confusion stems from previous announcements made by Amiga Inc. regarding AmigaOS 3.5. At the time it was indicated that OS3.5 would be the last official upgrade for the Classic Amiga. A great deal has changed since this announcement, most noticeably the Amiga being sold to Amino in December 1999. This resulted in the revoking of the PPC AmigaOS license. The new Amiga Inc. aim to migrate the community to the Elate based Amiga DE platform. However, it was recognized that the market would collapse further without an official end-user product- Enter Amiga OS3.9.
System Requirements
The system requirements remain similar to those dictated for the OS3.5 release. The only noticeable difference is another 2Mb of additional memory.

Basic system requirements:
CD-ROM drive
Hard drive
68020 or higher processor
Amiga 3.1 ROMs (version 40.xx)
6 MB Fast RAM
Mid-range performance
68030 or higher processor
10 MB Fast RAM
Graphics accelerator and/or scandoubler
Modem
Optimum Specification
68060 processor with PowerPC accelerator card
16-bit sound card
32 MB Fast RAM
I/O Accelerator
Feature List
The Amiga OS3.9 page on Haage & Partners web site boast the following features:
Multimedia programs (MP3 player, AVI & QT player, new CD player)
Web browser AWEB 3.4 SE (new version)
GENESIS (full Internet and network access)
AmiDOCK (new program start bar)
WarpOS 5.0 (new version)
IomegaTools (for Zip and Jaz)
new powerful Shell (based upon ViNCEd)
automatic datatype recognition
integrated unpacker (lha, lzx, dms, zip...)
fast search (search for, and in files)
new picture datatype (PPC-optimized)
many new Tools (ASLPrefs, new Info requester, new watch, font cache, new color wheel, etc.)
extensive HTML documentation (in English and German)
In addition, the OS upgrade sports a number of additions that have been requested or promised for OS3.5. Most notably, ReTargetable Audio is included, through the use of AHI, support for 1:1 aspect ratio window borders, and various improvements to HDToolBox.

Boing Bag
The release also introduced a series of official updates, known as BoingBag releases, that repair problems that may have arisen or improve system speed when using 3rd party applications.. These can be downloaded from the Amiga OS3.9 area on the Amiga web site.

Criticism
Two main criticisms have been raised regarding the OS3.9 release.

The first, raised by Amiga users, attacks the extensive use of third party software to supplement the operating system, such as the inclusion of AMPlifier (the Amiga version of WinAMP). Many of these utilities can be downloaded from Aminet or from the author's home page. Others have praised this move - why reinvent the wheel when there are products available that can do the job?

The second, more serious allegation, suggests that the Amiga OS3.9 CD includes unlicensed/illegal software. In a statement, Tomi Ollila of Network Solutions Development, Inc. accuses Active Software, Chris Wiles, and by extension, Haage & Partner, of pirating software.

Read the informal statement made by Tomi Ollila
Read the official announcement of the license negotiations
Read additional comments made by Tomi on his web page

After the informal announcement was made, Tomi Ollila issued a public announcement detailing the current progress of negotiations. After some negotiation, it is unlikely that these events will effect the sale and distribution of Amiga OS3.9. However, it has given Amiga detractors another reason to complain.
Future Developments
Plans are already being made for a OS3.9 'Boing Bag' release. One of many features to be included will be asynchronous file copying. This has been possible using various WB-replacements, such as ScalOS and Directory Opus 5 for years, but is the first time that the feature has been standard in an official AmigaOS release.
In the long term, Haage & Partner are hopeful that a new Kickstart ROM and a port to PowerPC will be approved.

Internal Links
Read the November 2000 Executive Update/OS3.9 Press Release

Images
AmigaOS 3.9 Advert (112k) Amiga OS3.9 Box (61.5k) OS3.9 CD - Front (149K) OS3.9 CD - Back (183K) Amiga OS3.9 Screenshot (172k) Another OS3.9 Screenshot (149k)

BACK