MagicBox AlphaGen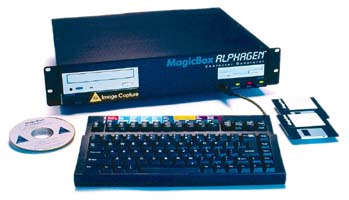 Essentially an A1200 fitted into customised rack-mountable case, the Alphagen is marketed as an all-inclusive multimedia system for business. These devices have been sold by Eyetech for several years, so it is unsurprising to find the Amiga being used in this market area.
The benefits of the Amiga approach are immediately obvious. Unlike similar devices, such as MagicBox's Aavelin, the Alphagen does not require additional hardware for content creation. Graphics & sound can be manipulated on the machine itself. Once complete, the sound & graphics can be combined into a single multimedia presentation & scheduled for a specific time. The usual communication & storage methods - 3.5" floppy disk, internal hard disk, modem, serial interface, and CD-ROM - are available for transmitting data.
It is only when the optional extras are examined that the unique capabilities of the Alphagen is realized. The package can be purchased with several optional extras:
Weather Instruments (Temperature, Wind Speed & Direction, Rainfall, optional Barometer and Humidity.)
MultiPort Option - Connect more than one serial device (weather, modem, etc.) to one Alphagen.
PC-Remote Keyboard Software - Use any Windows PC to dial up to an Alphagen.
Alphagen File Sentry Software - For automatic update of Alphagen contents from a database - call for details.
Infrared VCR Control (available 2 VCR and 4 VCR version)
Uninterruptable Power Supply
Fitted with the weather instrumentation the Alphagen could be converted into a multi-purpose device, able to measure wind speed and immediately display the results on a local TV weather channel.
Model Comparison
The Alphagen is available in four different models. The following chart details the differences between each model.
Alphagen Plus
Creativity Pack
Image Capture Playback
For use as a remote playabck unit only.
Image Capture Import
User Page Capacity
200+
200+
200+
200+
Backgrounds
2,000
3,000
3,000
3,000
Clip Art Images
100
1,000
1,000
1,000
Font Faces
15+
25+
25+
25+
Import Images From PC Disk
No
No
No
Yes
Credit Roll, Colorization, Blinking Text
No
Yes
Yes
Yes
Supports Optional Modem, Weather, and VCR Control
Yes
Yes
Yes
Yes
Misc. description
Warranty: One Year Parts and Labor.
Shipping Weight: 22lbs AG Plus or Creativity Pack, 23lbs AG Image Capture.
Dimensions: 3.5"H x 19"W x 14"L (2 Rack Spaces)
Power Consumption: .25 to .4 Amps
Additional Information
Alphagen purchase options | View Alphagen ports (23k)
BACK
Last Update:15/02/2003